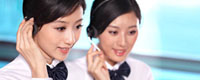 Name: Mr.Ken Lv
Tel: +86-18823795462
E-mail: ken@endless-power.com
E-mail: zoe@endless-power.com
E-mail: lena@endless-power.com
Add: Haihang Building,Nanlian Station,Shenzhen,China.
Skype: ken.lv510
Skype: luke.lv1031
WeChat: 8618823795462
whatsapp: 8618823795462
QQ: 2537231516








Product name : 125 Sunpower mono solar cell 3.2 - 3.5w

Product No. : 2016211105052
Details:
Specification
Sun powersolar cell is the most efficient monocrystalline cells currently in the world.
1.Highest Efficiency and Reliable: Unique back contacts producing technology —The positive and negative are designed on the back side of solar cell,providing high efficiency, even if the fragment, the rest part can still output power.

2.30 Degree Flexible:Can be bended 30 degrees, it is not easy to be broken.

3.Best Choice for Your High Requirement:Suitable for some high-tech products which need high efficiency solar cell in limited space.


Physical Characteristics

Construction: All back contact

Dimensions: 125mm x 125mm (nominal)

Thickness: 165μm ± 40μm

Diameter: 160mm (nominal)


Electric performance parameters